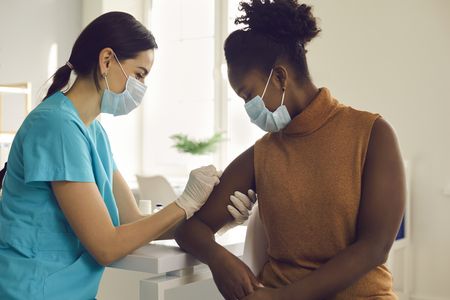 Our pharmacists are specially educated to provide vaccinations and have received a national certification to provide immunizations. Stop by and let Mint Hill Pharmacy protect you from these infections.
COVID-19 - We are now accepting walk-ins for the Johnson & Johnson COVID-19 vaccine. Please print out this form and bring it completed to the pharmacy.
Influenza (flu) - Flu vaccination can reduce flu illnesses and prevent flu-related hospitalizations. The CDC recommends a yearly flu vaccine for everyone 6 months and older. Now is a good time to get vaccinated. It takes about two weeks after vaccination for protection to set in.
Herpes Zoster (shingles) - Almost 1 out of every 3 people in the United States will develop shingles, also known as zoster or herpes zoster, in their lifetime. The only way to reduce the risk of developing shingles and the long-term pain from post-herpetic neuralgia (PHN) is to get vaccinated. CDC recommends that people aged 60 years and older get one dose of shingles vaccine.
Pneumococcal - Vaccines are available that can help prevent pneumococcal disease, which is any type of infection caused by Streptococcus pneumoniae bacteria. This bacteria can affect the lungs, blood, and brain. At Mint Hill Pharmacy, we offer two vaccinations to help protect you from many of the most common disease-causing strains. Ask our pharmacist which one is right for you.
Tetanus, Diphtheria, and Pertussis - These three serious diseases can be prevented with just one vaccine. This protects you and those most vulnerable to these infections – babies. Stop in and ask if you are a candidate for this vaccine.